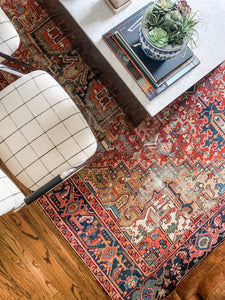 Step 1: Check out to get started
Step 2: Email us to let us know the ideal size, color scheme, and budget of your perfect rug. You can also send us a picture of any rug(s) you've seen and love to help us find exactly what you are after or any other considerations you want us to know, i.e. floor color, furniture, art.

Please email twosistersrugs@gmail.com
Step 3: We will email you to confirm the details and begin researching to find you the perfect rug!
Step 4: We will send you up to 5 rug options based on the details you've provided.
When we successfully find the right rug for you, this amount will be credited towards the cost of your rug. If no purchase is made, this is a non-refundable fee. 
$500 minimum purchase required for custom sourcing.